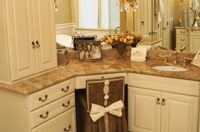 Let your imagination run wild when you visit our showroom of custom designs. The wilder the idea, the better, because we have the custom designs and skilled designers to help you create the unique room you envision in your dreams. Would you like a room with a fireplace but you're not the traditional fireplace and mantle type? How about a sunken fireplace in the center of the room? Or maybe you'd like a skylight large enough to bathe the entire area of your living room in gorgeous natural light? How about a state of the art outdoor kitchen and dining area that puts other cook-outs to shame? A walk in closet with enough storage and class to rival ones you see in magazines? Take a look through our photo gallery…there you'll find pictures of our custom furniture and some gorgeous rooms that will inspire you to start thinking about how to make your home more reflective of your personality and who you are. Remember…if you can imagine it, we can build it.
Custom Designs & Ideas
We service the Lehigh Valley, Allentown, Easton, Northampton County, Bethlehem, Bucks County and beyond. Check us out today and learn more about how we can help you make your home your most unique, and special space, through custom designs.