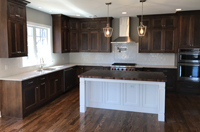 What room would you change in your home to reflect your personality?
Have you ever considered a home remodel to include a bathroom with his and hers vanity areas or a beautiful skylight to allow the rays of the sun to shine down on your plants? Would you sleep more comfortably with a bedroom that has a fireplace to keep you cozy and warm on those cold winter nights? Or perhaps a bathroom with a sunken tub with pulsating Jacuzzi jets to bring comfort to your tired muscles as you relax in front of strategically placed window that allows the sun stream in while you soak away your stress in luxury? Or how about a functional craft room with plenty of room for spreading out your scrap-booking supplies with overhead track lighting strategically placed? Or consider entering your patio with a wall full of arched doorways with glass doors?
If you think Laslo Kitchens just remodels kitchens…you are about to embark on a virtual adventure. You will see that we can help you with your home remodel, to create any room into a room that reflects your unique personality and needs. Look around…allow yourself to imagine your home remodel after rooms were designed to suit your personality, hobbies, family, and style.